Blog
Amazon AppFlow: your data pipeline to any destination
Singular is very excited to partner in Amazon AWS's AppFlow launch which will help marketers by streamlining the availability of marketing performance data into their internal data warehouse including support for Redshift, S3 & Snowflake.

Using this new integration enables AWS clients to access spend and ROI data across Facebook Ads, Google Ads, Bing, and 2,000+ additional integrations.
What is Singular?
Singular provides a single source of truth for marketing performance data by managing the 3rd party data connections for marketers fetching advertising spend, conversions, and attribution decisions for all marketing channels from over 2000+ integrations. Data is aggregated into business-ready schemas from partnֳers such as Facebook Ads, Google Ads, Bing, and many more publishers, influencers, and offline channels to create one data table. Singular's cost aggregation solution enables marketers to see the impact of every marketing dollar they spend.
What is AppFlow?
AppFlow is a new AWS product that enables seamless data transfer between SaaS applications to AWS services like Amazon S3 and Redshift. Using AppFlow flows, you can easily manage and automate data transfers securely in just a few clicks. Example use cases include:
Power Internal Marketing Dashboards
Use AppFlow to load performance marketing data including clicks, spend, and conversions into a unified table. Access all Singular supported integrations to copy data in the most granular way possible including campaign, ad group, keyword, and creatives.
Connect Paid Marketing with Salesforce opportunities
Use AppFlow as a data pipeline to copy:
Sales opportunity records from Salesforce.

Linkedin Ads campaign performance including spend, leads, and web conversions.
Load both data sets into Redshift and use it to measure the ROI for your social campaigns.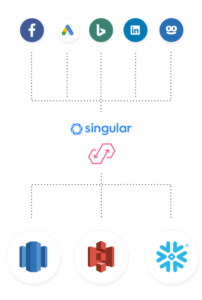 What is Singular's Marketing ETL solution?
Singular's Marketing ETL takes all marketing data collected by Singular's Marketing Analytics platform and packages it into a single data table that can be ported to any data warehouse. 
Singular and AppFlow make managing data pipelines and data flows into internal data warehouses, such as S3, Redshift, and Snowflake, and visualization tools easier than ever for marketers and engineering teams. Teams can easily map inbound data points from exclusive launch partners, such as Singular, into a newly created data table built on-demand through AppFlow's interface without any additional coding required. Never before has it been easier to get marketing data into your data warehouse to enable marketing and business intelligence teams to do deeper analysis and project where future marketing dollars should be spent.
How can Singular's Marketing ETL help my company?
Engineering teams:
Unifies all your marketing channels into one table with a business-ready schema.

Reduces requests from marketing teams like new channel integration requests and data discrepancies

Ensures your data will always be accurate – Singular ETL is a fully managed solution with monitoring 24/7.
Marketing teams:
100% coverage of all advertising spend guaranteed–even those partners where there is no API available

Create powerful marketing dashboards by joining Singular data with your proprietary data

Save valuable hours every week calculating return on investment for each marketing source and gain more time you can put towards optimizing campaigns

Add new channels without breaking existing dashboards and save engineering resources

Align internal teams and work towards common goals with a single source of truth
What is required to send my marketing data to my internal data warehouse?
The Singular and AppFlow integration streamlines data infrastructure to empower marketers to build more effective growth strategies based on accurate, relevant datasets. 
Marketing automation in the early stages can be extremely beneficial if your focus is to scale and have a quick insight into marketing analytics. Try Singular free with AppFlow and begin bringing data into your internal data warehouse or visualization tool without having to write a single line of code. If you're an existing customer that would like to know more about how to use Singular as a data pipeline data to your internal database, please reach out to your Customer Success Manager to start that conversation about the Marketing ETL and AppFlow integration.
Stay up to date on the latest happenings in digital marketing
Simply send us your email and you're in! We promise not to spam you.