Mobile Ad Fraud Prevention
Keep your ad budgets focused on quality users with the industry's leading Fraud Prevention suite, equipped with always-on fraud detection and the most prevention methods.
Protecting ad budgets for marketing teams around the world!
One holistic and evolving fraud prevention suite, no extra charge
Fight fraud before it affects your business
Block more fraud
50+ fraud detection & prevention methods, more than any other provider, to give you superior protection at no extra cost.
Catch fraud before it hits your attribution
Detect and prevent fraudulent traffic in real-time, before attribution, to ensure accurate measurement and reporting, and protect against wasted budgets.
Choose fraud rules that work for your business
Personalize your fraud strategy with granular controls that configure the system to work for your business, including black and white listing.
Analyze reporting for every situation
Better communicate with partners and stakeholders with full reporting visibility into rejected, suspicious and protected data to understand how your app is being targeted by fraudsters.
Rely on unique industry methods
Proprietary detection and prevention methods, like Android Install Receipt Validation & Click Hijacking Protection.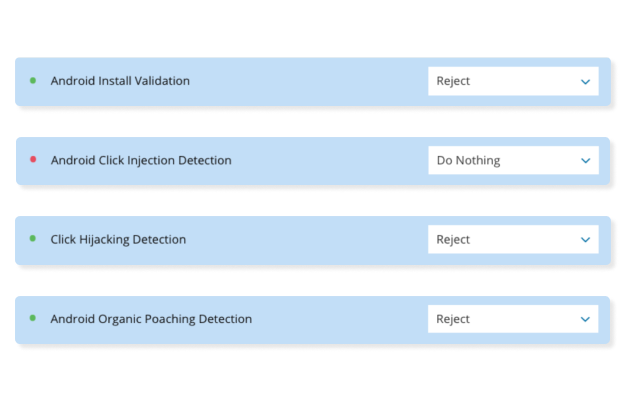 Fraud Detection & Prevention Suite FAQ
We presented our needs to them, and they considered their full array of detection methods to mold the right multi-channeled fit for us. We feel like they are an extension of our team, really dedicated to catching every potential fraudulent case, just as we are.
We manage a lot of ad partners and Singular is the best way to join partner metrics with our MMP for a full view of our campaigns. The Singular team continues to go above and beyond for advertisers' needs and are clear leaders with their fraud suite technology, SKAN attribution, and cost reporting analytics.
Awesome MMP tool with great fraud detection and management.
– G2 testimonial