Blog
Meta goes SKAN 4, boosting ecosystem growth
Good news for SKAN 4 adoption: Meta starting signing and releasing SKAN 4 postbacks yesterday and notified advertisers today.
As part of that messaging, Meta said:
"We are happy to announce that Meta has begun rollout of SKAN 4.0 support via Meta Ads Insights API starting July 17, 2023 to July 21, 2023. During this rollout, advertisers may notice a sharp decline in total reported SKAN data (which is provided to Meta from Apple) within the first few days given the wider range of reporting delays between SKAN 4.0 and previous versions of SKAN. No action is needed from you, the reporting will stabilize shortly."
A quick question before we dive into what this means: have you set up your SKAN 4 conversion models yet? Now is the time!
Meta joins the SKAN 4 party
Mobile marketers have been starting to wonder.
SKAN 4 was released in late October last year, and Apple announced SKAN 5 at this year's WWDC. But SKAN industry adoption has been plateauing at just around 10%, and some of the biggest players in the mobile adtech space — like Meta and Google — hadn't really put a flag in the SKAN 4 ground yet: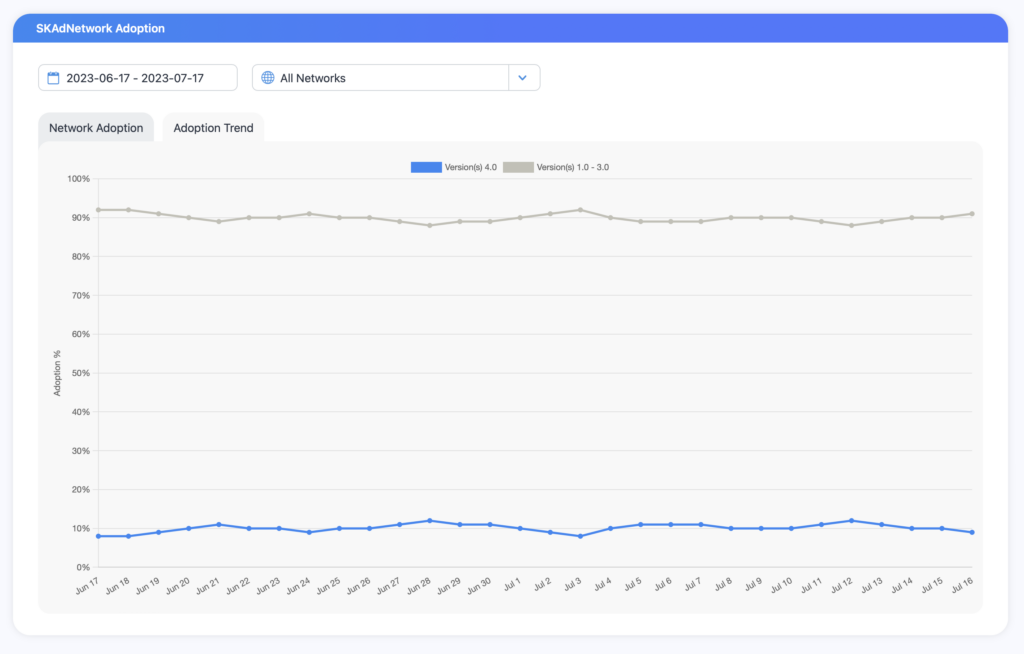 Now that's all changing.
Meta is supporting SKAN 4, and that means the rush is going to be on for every other platform and ad network to regain parity. SKAN 4 provides more optimization signal and more measurement fidelity than SKAN 3, so vendors that implement it right and continually fine-tune their SKAN 4 set-ups have an opportunity to provide better, more relevant, and more performant advertising services to their clients.
There are some leaders already in the SKAN 4 race
As we mentioned when we launched the live SKAdNetwork adoption dashboard, there are some early leaders:
Unity
AppLovin
Smadex
Appier
Moloco
Unity is currently running 65% SKAN 4 postbacks. AppLovin passed the halfway mark and is running 51% SKAN 4 postbacks. And Smadex, Appier, Moloco are all in the 20-40% range.
All that is likely to change soon, however.
With Meta declaring its rollout of SKAN 4 support, everyone who hasn't prioritized SKAN 4 transition is going to feel more urgency to complete and ship their SKAN 4 implementations.
The next shoe to fall: Google
At App Immersion 2023 in June, Google said that SKAN 4 support was coming "later this year" and showed that Google would support two measurement methodologies on iOS: Google Modeled Conversions and Apple's SKAdNetwork.
Now the pressure is amped up just a bit for Google to level up to Meta's announcement and deliver on that promise. Once that happens, the vast majority of the mobile marketing ecosystem will finally support SKAN 4.
Currently, the release of SKAN 4 is 9 months old.
Meta's announcement doesn't mean that it is necessarily opening the floodgates instantly with SKAN 4, although I expect its rollout to happen fairly quickly. But if Google's rollout commences next month and perhaps completes the month after, we're looking at almost a full year between launch and broad adoption.
Time to get ready (if you're not already)
Hopefully you've been preparing for SKAN 4 for months now. If you haven't, now is the time to jump on the bandwagon and get ready, tout de suite.
Need some help?
Here are 2 ways we'd love to help you:
Get our SKAN 4 strategy guide, which includes transition planning assistance
Talk to us. We are more than happy to chat with you. Book some time and we'll walk you through the steps you'll need to take to be ready.
This is finally happening. It's an important moment in mobile marketing history, and Android is up next not too far from now. Now is the time to figure out how to run performance marketing in the era of privacy. We can help, from MMM to SKAN to Privacy Sandbox on Android.
Singular is the next-generation MMP for the privacy era.
Let's chat!
Stay up to date on the latest happenings in digital marketing
Simply send us your email and you're in! We promise not to spam you.