Blog
5 things to do when your mobile retail sales crash
This is a guest post by Ryan Gould, VP of strategy and marketing at Elevation Marketing
Mobile commerce sales are expected to reach approximately $420 Billion by 2021.
That's massive, and it's only going to grow. More importantly, people who use their mobile devices to make purchases usually spend twice as much as other customers.
It's no surprise that mobile e-commerce is a very important channel for retailers to sell their products and services through. However, in the volatile economic environment, we live in, mobile retail sales can crash, for myriad reasons.
That's why it's smart to know what to do if your mobile retail sales collapse. In this article, we'll give you five concrete things to take action when things go south with your mobile sales.
Let the action begin!
#1: Read the data to figure out why mobile retail sales are crashing
Before you start taking any action on improving your mobile retail sales, it's best to investigate why your sales are falling in the first place. Never assume what the reason could be, until you've explored it.
Here's a great list of questions you can use to get to the root of the problem:
When did mobile retail sales start crashing?

Was there any event that occurred before mobile retail sales started crashing?

What is the size of the sales drop, in dollar terms?

Which products have caused mobile sales to drop?

Is there any trend that's being revealed by the sales numbers?

Are my site visits and app sessions down, flat, or growing?
Is the buyer's journey ending on one particular screen?
Did my pricing change, or did currency fluctuations in foreign markets recently happen?
Is the number of abandoned shopping carts vastly growing?
Did a competitor release something attractive to my users and customers?
Is my store suddenly rejecting more credit cards?
Make sure you confirm that you know the reason, so your plan of action is relevant to the problem you're wanting to address!
#2: Revamp your mobile site/app design
There are a bunch of things you can do to restyle your mobile e-commerce app and optimize it for conversions. Your e-commerce website or app should be easy to access on any mobile device, so people find it easy to transact with you.
Start by enlarging your mobile retail product images and text so people can see your products clearly. You should also enlarge your buttons so people with 'fat fingers' can click on your calls to action with ease.
Another way to make your mobile site or app user-friendly is by only including one call-to-action button per page. It makes the buying decision simpler for customers, by giving them lesser choice and making it super simple for them to transact.
Make the navigation experience super simple.
Your mobile website or app experience should be significantly different compared to your desktop version. Using 'responsive design' so that your website fits any mobile device, whether smartphones or tablets, is a great way to provide a universally consistent user experience.
But almost nothing beats a native mobile app for usability.
#3: Send great mobile emails (and maybe a push notification)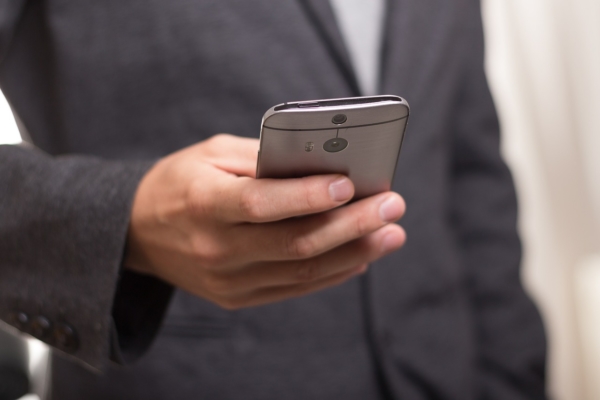 If you notice your mobile retail sales plummeting, it's best to reconnect with your subscribers.
And the best way to reconnect with subscribers is to send them beautiful mobile emails. More than 67% of retail consumers check their email on their mobile device.
Sending mobile emails is an art. You can use them creatively, for various reasons such as finding out why your customers have stopped buying, what would interest them, and what you can do as a retailer for them. Nearly 20% of all mobile sales are initiated by email marketing, so it's worth the time investment to utilize the channel as best as you can!
Some tips for sending great mobile emails are:
Keep them simple. It's best to come to the point, as people have very short attention spans these days. So only send them the message they need to hear!

Use visually appealing images, with less text. Images get the message across in an interesting and engaging way, and consumers will love you for it.

Have a specific, clear and simple call to action. Emails should make it easy for customers to transact with you too.

Use catchy subject lines to grab the attention of your consumers. The better your subject lines are, the higher the chances are of your consumers clicking on them!
If you've got highly engaged users, and you have an offer that won't cause them to uninstall your app, you can also send a smart push notification that's tailored to who they are, what they want, and what they've been doing recently.
#4: Invest in search optimization (SEO and ASO)
Just like you need to invest time in optimizing your website for SEO for desktop searches, you also need to invest time in optimizing your mobile website for mobile searches. And for apps, you need to optimize your App Store and Google Play descriptions for search on those platforms so that you can rank well.
Organic channels (and paid channels) are complementary, so increased success in one often spills over to the other, so it makes sense to enhance these different channels together.
58% of all searches are on mobile. Inevitably, you need to put some effort into this.
Some steps you can take to enhance your mobile SEO are as follows:
Make sure your website is responsive: If your website doesn't fit on a mobile device, the ones that are will outrank yours.

Optimize your content for mobile devices: This will help in loading content on your website faster and optimize your website for speed. By reducing the image sizes and placing meta tags in the right places you can enhance your search rankings.

You can use the

Google Search Console

for checking your website's mobile usability issues so you can fix all the errors that are stopping it from being found by people. It's a great way to determine how you can spend your time wisely on mobile SEO.
Mobile commerce now represents a third of all retail sales in the U.S. according to one report and is growing almost 15% year-over-year.
Some steps you can take to enhance your app ASO are as follows:
Pick the right category. Remember, Twitter switched from social, where it was always trailing massive competitors, to news, where it instantly became number one. A higher ranking means more installs.
Get more (and better ratings). Look, ratings are table stakes: all the top apps have lots of them. But continually adding new and updated ratings for your app is critical to even having the opportunity to get good placement.
Build your offline footprint. Most people who install an app have heard of it before and went searching for it. Without some brand identity and awareness, it's hard to get drive-by installs. And, they're much less likely to result in engaged long-term users/customers.
#5: Make sure you keep the checkout experience as simple as possible
The checkout experience is the make or break moment for mobile retail. That's why it's so important you avoid asking for unnecessary information from your users during checkout.
You can run a survey with your customers to understand what they like or dislike about your mobile checkout experience so you can add what's necessary and eliminate what's not needed. As a general guide though, implementing the below steps is great for mobile eCommerce:
Allow users to pay through multiple sources: Your checkout page should allow users to pay via credit card, paypal or bank transfer, whatever makes it easy for them to transact.
Simplify the UI elements of your app to entice your users to take action. Some colors are more appealing than others for shoppers to click on the 'buy' button. For instance, using shades of orange or green are better for enticing users to take action compared to red which puts the 'halt' signal in the human brain.
Remove all the content that's unnecessary for checking out. You can include complimentary products for upselling them at checkout, but don't annoy customers with any irrelevant promotional offers.
Wrapping it up
By implementing the above steps, you can minimize the temporary setback.
Mobile retail sales can be cyclical, abrupt, and vary depending on the nature of the industry your business is in. Reading the data and taking appropriate action is the best way to know which is the best cure for the problem.
Ryan Gould is Vice President of Strategy and Marketing Services at Elevation Marketing. From legacy Fortune 100 institutions to inventive start-ups, Ryan brings extensive experience with a wide range of B2B clients. He skillfully architects and manages the delivery of integrated marketing programs, and believes strongly in strategy, not just tactics, that effectively aligns sales and marketing teams within organizations.
Stay up to date on the latest happenings in digital marketing
Simply send us your email and you're in! We promise not to spam you.